Determining one's bathroom remodeling cost can be a tricky and tedious business. It is an important step, however, if you are working on a budget and need to plan for the various things you are going to need. So where do you start?
Know Your Project
Determining your bathroom remodeling cost starts with knowing what exactly it is that you want to have done to your bathroom. This includes looking at all the aspects of a remodeling project including expansion or reduction of size, fixtures, cabinets, and flooring.
Are you looking to expand or reduce your sweet bathroom space? If so you are going to need to budget for room modification expenses such as tearing out walls or existing fixtures or putting in new walls and fixtures.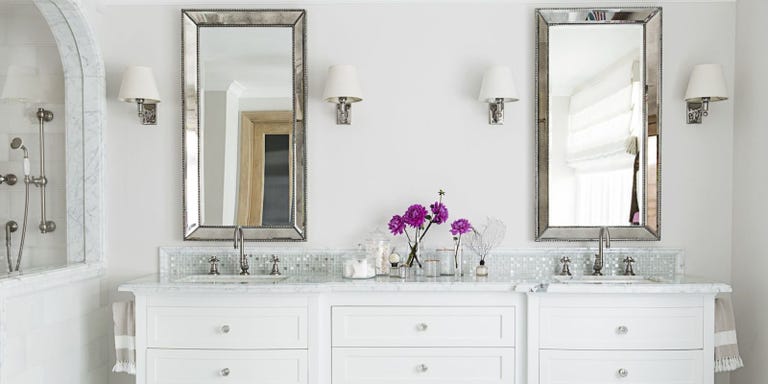 Next, you need to decide if you are going to be able to reuse some (or all) of your current fixtures, or are you going to need to replace the current lot with upgraded versions? Remember, when considering the replacement of your fixtures, you are talking about the big fixtures (such as your tub, sink or toilet) but also the handles and pulls that give those fixtures their flair and appeal.
Now, look at your cabinets. Are you looking at putting in custom-made cabinets? Or is it possible to reuse the cabinets you currently have? Have you considered simply re-facing (or repainting) the cabinets already in place? This will also impact your bathroom remodeling cost.
Now, last (but certainly not least) you are going to need to consider your bathroom flooring. Are you going to replace the flooring or work with what you have? The size of your bathroom and the type of flooring you are considering having put in will play a significant part in determining any extra costs in this area.
Planning for the Unexpected
When you are looking for your bathroom remodeling cost, make sure that you factor in those small things that you might overlook when you're planning out the large steps.
One of the first things you might not consider when determining the total cost is the 'price' of financing the operation. If you do not have the cash on hand to pay for your project up front, you will probably consider financing the job (putting it on credit). Be sure to factor in the finance charges that will be applied to the overall price of the job if you are looking at paying for it on credit.
Other things most people don't plan for are architect or drafting fees, but if you are going to knock out walls or completely restructure your current space, you will probably have to contend with blueprints or general drawings, which all cost money.
Also, especially if there are going to be any structural changes, you need to consider the cost of permit fees, for most areas require that you obtain a permit before you start gutting out a room with fixtures that are tied to the plumbing or electrical systems.
And finally, make sure that you consider the amount of personal time this is going to take out of your work schedule. Especially if you are planning on doing any of the work yourself. Because there may be days when you have to forgo your job or leave early to get the work done by the inspection deadlines.
There is a great deal to take into consideration when you are determining your bathroom remodeling cost, but with a little time and attention, you can determine just what the overall cost of your project is going to be.
Bathroom Remodeling Ideas
It is needless to say that the popularity of remodeling has indeed increased now that more people are staying at their existing homes due to the current economic situation. Bathrooms, in particular, are where most people start and since its small spaces, there are plenty of bathroom remodeling ideas and low-cost options available to do so.
To start looking for some bathroom remodeling ideas, you will have to do further research than just flipping through your favorite home magazine or getting some ideas from the homes of your friends. Take a picture of some open houses you visit provided they allow it. Open houses look amazing because professional interior designers are used by the real estate agents, and the bathrooms are most often remodeled depicting the latest styles and ornaments, making it a great way to note down some of the latest bathroom remodeling ideas.
The local bookstore will have some great home and garden magazines that can help with bathroom remodeling ideas. These type of magazines are usually for people who plan on remodeling their homes and include budget-friendly ideas and tips on how to do-it-yourself.
There are plenty of bathroom remodeling ideas and decorating tips offered for style, design, fixtures and the use of space. All homeowner will have a different set of plans to remodel their bathroom much depending on the place available and a traditional or contemporary style of bathroom. However, not all bathrooms can be extravagant to include whirlpool tubs and separate vanities. Small bathrooms present some complications, but with the right information, it can look amazing.
A few tips to consider when looking out for some bathroom remodeling ideas is first to determine the purpose of remodeling. Is it for purposes of selling your home, upgrading it or maximizing the layout of your bathroom? By answering these questions, it will narrow your ideas and specify exactly why the remodeling is to be made.
Getting an estimate of the costs of the materials for your bathroom remodeling ideas is the next step. Some help from your plumber, electrician and contractor might be needed to complete this step. Here are a few things to think about: electrical supplies, plumbing supplies, flooring, drywall, paint or wallpaper and other fixtures. It is best to estimate a budget for labor and materials together leaving 15% extra to in case the unexpected happens. Sometimes something you didn't intend to replace might have to be replaced especially if it is an older home.